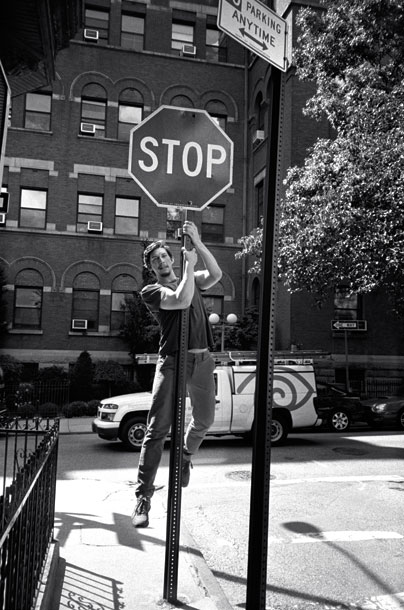 House Keeping
*The above photo of Adam Driver has absolutely nothing to do with my top 10 songs of 2012 (so far)…I just think the photo is a gnarly demonstration of upper-body strength.

** I recently found a link from The Greene Space, the website for New York Public Radio's centre for live performances, to my post on Their Eyes Were Watching God. In the feature (from way back in March), the good folks at The Greene Space included Cherchez la Curl in a list of  "cross-cultural resources" amongst venerable online publications The Root and The New Yorker. Can I say I am extremely humbled/pleased/delighted/giddy? Is it ok for me to say that?! Thanks!
Cherchez la Curl's Top 10 Songs of 2012 (So Far…)
I've been inspired by All Song Considered's  compilation of favourite songs of 2012 (so far) to compile my own compressed list of favourites. Once I assigned myself the task of narrowing down 10 songs (not, 11, not 12, not 13, just 10), I had to make a lot of tough decisions. There are soooo many great artists whose songs just fell short of my top 10 (e.g. Patti Smith, Kishi Bashi, Michael Kiwanuka, Best Coast, Spiritualized, Iyanya etc., etc., etc.), but I just had to bite the bullet and make the tough choices.
At the end of it all, I wish there were more Afrobeats on my list, but hey, it is what it is (most of the Afrobeats songs I like were not released this year, e.g., Brymo's Ara from late last year, classics like P. Square's E No Easy and Wande Cole's Bumper to Bumper, or even D'Banj's ubiquitous Oliver Twist, which saw its Nigerian release last year). Anyway, here's my list (in no particular order, but generally building from a gentler to a more frenetic pace of song)
1. Michael Kiwanuka Tell Me a Tale
Even though a few tracks were released in 2011, the EP was released this March so I'm going to claim this one for 2012. So far, my favourite song of his is I'm Getting Ready. His performance on Later…With Jools Holland is devastatingly beautiful. If it was possible to transform that performance into a blanket, I would walk around wrapped in its cozy embrace all day everyday.
2. John Mayer Queen of California
I already wrote a post about The Resurgence of John AKA(Johnny We Hardly Knew Ye), so I won't rehash all the drama leading up to his recent album, Shadow Days. I'll just say Queen of California has put me in the market for an el Camino and has me jonesing for a road trip across America.
3. Robert Glasper Experiment ft. Erykah Badu Afro Blue
There's a recurring theme in my final list of top 10 songs…I've blogged about quite a few of them at some point this year (I must have loved them enough to be driven to put finger to keypad, to compose a dedicated blogpost), and Afro Blue is no exception.
4. Usher Climax
One word, all that's required really, when discussing Climax: Diplo. I know he wasn't the track's only producer, and I know Usher's falsetto is the clotted cream to the production's summer strawberries (i.e. the reason why you eat strawberries & cream in the first instance), but Diplo, Diplo, Diplo…Diplo!
5. Best Coast The Only Place
I've been enjoying (?) a sustained resurgence of my love for the West coast of the US of A, a California-lovin' theme, if you will. Having grown up, partly, on the West coast, I am culturally predisposed to love certain cultural touchstones that speak of the West coast (sunshine, sunshine, a bit of water, a dash of Crip walking, a fervent belief in the superiority of Mexican food available on the West coast over anything available on the East, and more sunshine). A trip around the West Coast last Christmas re-awakened my inner Cali girl (and a love I never knew existed for LA…). Best Coast is like having a dollop of Cali available to appease me when needed (like a spoonful of honey).
6. Young Jeezy ft. Jay – Z I Do
I am a sucker for clever word play and the best rap music delivers beats and content. Nowadays rap often fails to deliver on the latter, whilst hyping the former. A recent article from the Financial Times (yes, the FT) on the Watch the Throne tour/album and the ostentatious display of wealth in rap generally is spot on, in my opinion. According to the article "superabundant, super-confident, flashy – hip-hop is channeling the spirit of rock music's golden age," suggesting rap could follow the way of rock music's decline following the inflation of its stars' egos & the resulting egotistical sub-genre prog rock (is this the age of prog rap, and will a "more ernest" genre supercede rap the way rap did rock?). Anyway, broad questions about the entire rap-genre aside, I do, manages to skirt these issues and remains a year-to-date favourite.
7. Alabama Shakes Hold On
I wrote a post about Alabama Shakes a while ago, around the time they dropped by London for a few performances. My love for Hold On knows no bounds; my varied upbringing means I am a West coast girl as much as I'm a Southern girl and an East coast girl (cultural schizophrenia!), so I'm all for the Shakes' Southern meets Rocker/Bluesy vibe. I have to admit I haven't listened to their album in its entirety, so for all I know there are more songs waiting for me to wear out with the replay button.
8. Carly Rae Jepsen Call Me Maybe
I don't think this requires any explanation, really. I know this is a pop song and there are some who regard pop with disdain. I will admit that sometimes I am one of those people who peer down their nose imperiously at pop (my limited musical skills, notwithstanding). But I know a great song when I hear one. I have to restrain myself from dancing when the chorus comes on (even if it just starts playing in my head and I'm in the middle of a meeting…). The song is that good. YouTube says the world agrees 100 million+ times over.
9. May7ven Ten Ten
Omo 'Badan ki ni so?! Shout out to my fellow Ibadanite/Londoner, May7ven, for releasing one of my favourite tracks this year. She managed to create what I believe is a truly universal Afrobeats song (in the vein of D'Banj's Oliver Twist). She doesn't have the G.O.O.D. Music/Island Records backing D'Banj has to push distribution, but the extent of London's love for the song is evident in its top iTunes ranking and the number of people who land on this blog having searched for its refrain Dance for Mommy, eh eh, Shake for Daddy from my earlier post on the song.
10. Davido Dami Duro
Note: I've been informed my interpretation of Davido's lyrics is "incorrect". Pshaww! Based on my previous posts on my "lyric-discerning prowess…or lack thereof," you'd be correct to infer that I'll continue on in my understanding of the song

Whenever I play this song my sister says her heart starts racing and she starts to feel anxious; such is the frenetic pace of Davido's Dami Duro. For non-Yoruba speakers, Dami Duro, literally translates as Stop Me, referring to the various (now illegal, but extant) police checkpoints scattered across Nigeria's roads and highways. Police offers, finger on the trigger of a well-worn shot/machine gun, stand in the middle of a road and brandish their rifles in the air, signalling drivers to stop their cars, so that the officers can "check your car" and "your documents", to "make sure you do not have any contraband" and "your documents are up to date". If it is at night time, one of the officers usually feels the need to shine a flashlight (even if there are functioning streetlights) right in your eyeballs, whilst "asking you for your documents". Bold folks drive through these checkpoints asserting the illegality of the checkpoints (sometimes, not the best idea given the officers' gun-toting ways); most folks pull over and submit their car/papers "to a review." This song is an ode to the frustration Nigerian drivers have for these checkpoints. It is political and also slightly vein (several references are made to the singer's/singer's father's wealth), but it is also terribly catchy with a quasi-techno proto-Afrobeats backing track. There's also a great dance that goes with the song, too, making the song pretty tough to resist.
That's it! If you've read all the way to this point, I hail you. Now I want to know, what are some of your favourite songs of 2012 (so far).